Pechanga Resort & Casino
Dec 13
App Gift Ideas for Slot Players
There are so many slot iPhone apps coming out now that's it hard to keep up; but here are some of my favorites:
Video Poker Pay Tables 9/6
$1.99 on iTunes
This tidy app from videopoker.com shows how to spot a video poker machine with the best odds by a quick glance at the pay table.   Amateurs and Pros alike will love this app.
Sun And Moon by Aristocrat
$1.99 on iTunes
This is just one of hundreds of slot titles available for free play.  This one represents the entire category of games developed with "Australian math," which is largely responsible for today's 1¢ video games surging to the top of the charts.
Cleopatra by IGT
$1.99
Again this is one of many video slots available, but like the iconic game above, Cleo helped energize the video game market which eventually moved reel slots into second place on most casino floors.
Playboy Hot Zone by Bally
$2.99
Just another video-slot-in-an-app but this one has lots of bells and whistles.   They have a feature called Hot Zone which is like playing Tetris on top of your game for bigger bonuses.  It has pretty good sound as well.
Dec 06
Holiday Gift Ideas for Slot & Card players
What do you get for the Holidays for the slot machine fan or gambler in your life?   Don't look to the internet with a search engine; you'll get 10,000 hits and some pretty awful ideas.  Here's a list of books from our VP of Slots, Buddy Frank, who has pretty much tried or bought everything out there: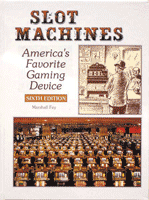 Slot Machines: America's Favorite Gaming Device — Marshall Fey
$29.95 (includes shipping)
This is the best history of slot machines you'll ever find from one of the greatest collectors.  Marshall's grandfather invented the world's first slot machine, so these games are in his blood.  This is a great "coffee table" piece and you'll notice that most of today's high tech machines evolved from one of these early concepts.  If you buy through the website, Marshall will be happy to autograph your copy.
Video Poker for the Intelligent Beginner – Bob Dancer
$24.95
Bob is the country's greatest video poker expert.  His book is easy to understand and once you complete it, you'll win more money playing than if you didn't.   He gives excellent tips whether you're a pro or a complete novice.   Bob and I have been comparing notes on video poker (him from the player side and me on the casino side) for years.  There's no one better.
Knock Out Blackjack – Olaf Vancura and Ken Fuchs
$17.95
Casino table game managers don't like players who count cards very much.  If you're really good, they'll probably ask you to leave.  That said, it is not illegal and if you want to learn how to do it, this book is one of the best.  Olaf has recently become a slot manufacturer, but spent his youth as a math geek (he has a Ph.D.) and there are few better on gambling odds and game play math.  
Sharp Sports Betting – Stanford Wong
$29.95
While sports betting is not allowed in any state but Nevada, probably more people participate in this type of gaming activity than any other worldwide.  Stanford Wong, like Vancura, is a master of gaming odds and has written extensively on many table games as well as this excellent book on betting sports.
Roll The Bones:  The History of Gambling – David G. Schwartz
$29.95
This is an academic work, but is also a fascinating look at how gaming got its start….probably a lot further back than you might have imagined.   Schwartz is also an academic (Ph.D.) contributing frequently at the University of Nevada Las Vegas.

 
Jul 08
Who wants to meet Matchbox Twenty?
If you're coming to the kickoff to our Summer Concert Series to see Matchbox Twenty this Saturday, July 9th, then chances are you're wondering how you're going to meet the band.
Thankfully, you've connected with us online & we're going to tell you how.
The first way was to be a fan of our Facebook page where we already gave away a pair of Meet & Greets to fans who knew a MB20 song played in reverse.
The second way: Text MB20 to 55678 and you'll receive a clue at 5 p.m. on Saturday, July 9th, on where to find a pair of Meet & Greet passes at Pechanga. It could be anywhere at Pechanga, so make sure you come early to know where everything is!
The third & fourth way: Come to the concert series pre-show at 7 p.m. Saturday (at the venue) hosted by Ryan & Ashley from Pechanga. Two pairs will be given to fans in the audience, so be there to win those, or shirts and Pechanga gift cards.
Mar 29
[video]
Mar 15
Pechanga Wine Fest Preview #1: International wines
As the Pechanga Wine Festival nears, we wanted to take a look at some of the amazing wines that will be poured all day April 2nd.
The unique addition to this year's Wine Festival is the broad selection of wines we'll have from vineyards from around the world. Check out a few of them below:
Robert Oatley's '09 Sauvignon Blanc, Pemberton (Western Australia)
You may have seen Sandy Oatley, the vineyard's chairman, recently on Oprah's "Ultimate Australian Adventure." The vineyard has been gaining popularity and rave reviews and recently launched in the U.S. in 2008.
The Pemberton wine region in Australia is perfect for growing Sauvignon Blanc. The elevated cool, maritime climate of the region maintains the core freshness and zesty aromatics of this popular variety; arguably the home of Sauvignon Blanc in Australia, says Oatley.
Review: "Fresh floral fruit, traces of herbs and hay, and a handsome dry mid-palate with attractive depth. From a remote area of Western Australia with huge potential for this variety." - Dan Berger, former LA Times wine columnist.
Graham's Six Grapes Reserve Port (Portugal)
Six Grapes is a big hearted wine. It is fruity and robust and of superb quality. It is blended to be as similar as possible to a young Vintage Port. It has often been referred to as "the everyday Port for the Vintage Port drinker."
Graham's "Six Grapes" pairs wonderfully with rich, dark chocolate desserts, as well as strong cheeses like a creamy blue.
Review: Wine & Spirits gave it 91 points, stating: "The wine has deep color and grip, bright plum and fig richness, dark, sweet tannin…It's beautifully blended."
Villa Maria Estate's 2010 Private Bin Sauvignon Blanc (New Zealand)
This vibrant Sauvignon Blanc is bursting with a fruit-salad-bowl of flavours including ripe gooseberry, passionfruit, fresh citrus lime and exotic herbaceous aromas.
Review: Wine Spectator gave it 90 points, stating it "offers a wonderful mix of pineapple, citrus and passion fruit notes that are ripe, fragrant and terrifically refreshing. A beam of acidity keeps the focus and persistence of the flavors, showing hints of mineral and white pepper as well."
Reviewers from Villa Maria's site suggest it with seafood like crawfish or shrimp (a classic combo with wine in New Zealand).
Cavas Valmar's 2001 Cabernet Sauvignon (Mexico)
Made from grapes in the San Vicente Valley, San Antonio de las Minas and Guadalupe. This elegant wine has a dark ruby color with oak and ripe fruit aromas.
It's full bodied, with good extract and longevity, and is an ideal match for rich cheeses and aged red meats.