Holiday Gift Ideas for Slot & Card players
What do you get for the Holidays for the slot machine fan or gambler in your life?   Don't look to the internet with a search engine; you'll get 10,000 hits and some pretty awful ideas.  Here's a list of books from our VP of Slots, Buddy Frank, who has pretty much tried or bought everything out there: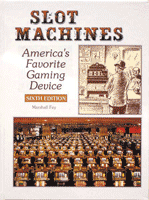 Slot Machines: America's Favorite Gaming Device — Marshall Fey
$29.95 (includes shipping)
This is the best history of slot machines you'll ever find from one of the greatest collectors.  Marshall's grandfather invented the world's first slot machine, so these games are in his blood.  This is a great "coffee table" piece and you'll notice that most of today's high tech machines evolved from one of these early concepts.  If you buy through the website, Marshall will be happy to autograph your copy.
Video Poker for the Intelligent Beginner – Bob Dancer
$24.95
Bob is the country's greatest video poker expert.  His book is easy to understand and once you complete it, you'll win more money playing than if you didn't.   He gives excellent tips whether you're a pro or a complete novice.   Bob and I have been comparing notes on video poker (him from the player side and me on the casino side) for years.  There's no one better.
Knock Out Blackjack – Olaf Vancura and Ken Fuchs
$17.95
Casino table game managers don't like players who count cards very much.  If you're really good, they'll probably ask you to leave.  That said, it is not illegal and if you want to learn how to do it, this book is one of the best.  Olaf has recently become a slot manufacturer, but spent his youth as a math geek (he has a Ph.D.) and there are few better on gambling odds and game play math.  
Sharp Sports Betting – Stanford Wong
$29.95
While sports betting is not allowed in any state but Nevada, probably more people participate in this type of gaming activity than any other worldwide.  Stanford Wong, like Vancura, is a master of gaming odds and has written extensively on many table games as well as this excellent book on betting sports.
Roll The Bones:  The History of Gambling – David G. Schwartz
$29.95
This is an academic work, but is also a fascinating look at how gaming got its start….probably a lot further back than you might have imagined.   Schwartz is also an academic (Ph.D.) contributing frequently at the University of Nevada Las Vegas.